Chocolates, cakes, cards and even romantic movie
s seem to be the order of the day 24 hours a day. Ew.. i feel the air again.. the love bug flying almost everywhere without a place for anyone to hide. I dun celebrate V-day. Nvr. Not even when i m neither single nor available. i hv a problem eating in a restaurant full of lovey dovey couples serving only v-day set dinner. I have to admit I have nothing against love per se. It's just the overdose of marketing drivel that I can't put up with. Price hike of all related products, ah... juz another mkt strategy to boost up sales volume. Everyday can be valentine's day, if you bother to top his/her days with some lil' surprises. You dun hv to do something big, a hug, a tickle, a walk in the moonlight or a little dance in the drizzle. Little things in daily lives which won't cost you much, all you need to spend is a little bit of love. So why wait till this day when everybody seems obligated to publicly showcase their love?
And dun u think its a high risk festival when the break-up rates is higher compared to usual? It could be an annoying Hallmark holiday, yet it still seizes itself upon the female psyche so that she is unable to not harbor expectations about Valentine's Day. The same old story of expectation leads to disappointment. Oh.. Not to mention how the day makes people feel when they are single, whether they want to be or not.
Nonono.. Get me wrong not. I might not find the day special doesnt mean i detest those who treat this day as the most important day of the year. No.. no.. no.. i m not anti V-day. I still find it sweet looking at couples holding-hands together, who are obviously deeply immersed in love. I just dun find it a day worth extra celebration. It will be a whole different set of story if its an official holiday thou =P. Of coz i dun mind if any of u all wanna shower some extra love on me.. haha.
'Happy V-day' to all couples n 'Happy Friendship Day' who gonna hv some great parties wif ur buddies. Also 'Happy Single Awareness Day' to those who is still searching or quit searching. A
fterall its not juz a day of sweet romance but a day to rekindle the flame of love if you have lost it somewhere back then...
I shall go get some Royce Chocolate for myself and some doggie treat for Zico and Oh yea.. THEY are my all-season lovers!!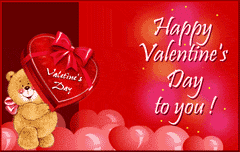 Labels: Rumbling.. Mulling.. Howling..